Fixing
This part rarely fails. The more likely cause of the problem is that the bias oscillator which drives the head is not working. This is usually due to a broken transformer, drive transistor or capacitor.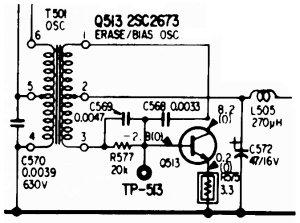 Bias oscillator circuit
The head can be cleaned with a little alcohol and a lint free cloth. Clean the head using a left to right motion not an up and down one.
This fault is particually common in the SL-HF950.