Accessories

SAD-100 External microphone Shoe
This attached to the top of the BMC-100s microphone to minimise audio interference pickup.

LC-720 Carrying case
A hard shell case which could hold the BMC-100 and two NP-11 batteries.

DCC-2600 Car Battery Cord
A power cable which connects to a car cigarette lighter socket.

NP-11 Rechargeable Battery Pack
Rechargeable battery pack weighing 12 ounces, and allowing a full hour of continuous operation.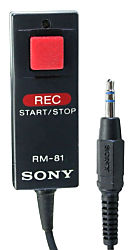 RM-81 Remote Control
A wired remote control which operates record and standby. Supplied with 16ft of cable.